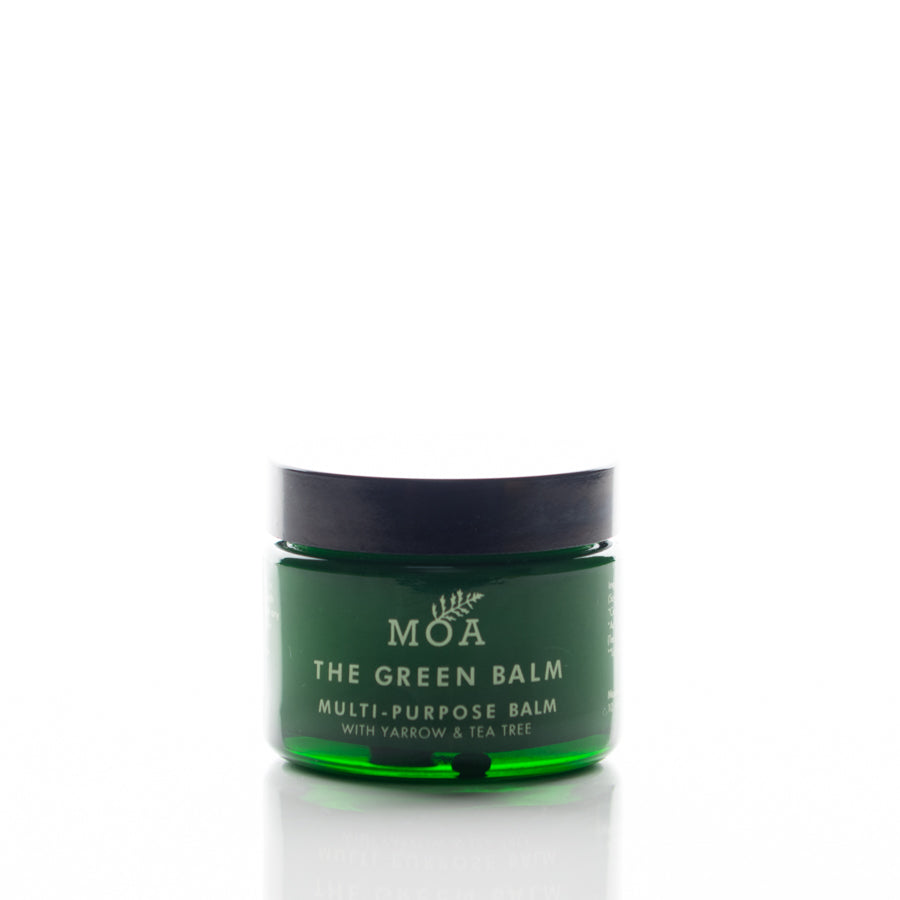 The Green Balm is an organic, multi-purpose healing balm, and some might say, it's a miracle! The green Balm combines MOA's hero herb yarrow (Achillea millefolium), used for centuries to soothe, heal and repair, along with tea tree oil, nature's powerful antiseptic, along with a nourishing base. This essential multi-tasking family product is a vital part of any first-aid kit, ideal for taking on holiday or camping. Keep handy for any little crisis.

For your daily skin care needs, The Green Balm is ideal for oily, acne skin as well as dry and sensitive skin types. The green balm is safe to use around the eyes and removes caked-on eye makeup, this simple daily skin treatment leaves the skin balanced and toned. Hot cloth cleansing won't strip the skin of its natural oils, which can cause breakouts, it balances and nourishes the skin.
TO USE: Take some of The Green Balm and melt it between the fingertips to create an oil.  Smear the oil over your eye makeup, smudging it away from the eyes.
Massage your face with a little more balm to encourage better circulation and to help tone the facial muscles.  Dip your face cloth in hot water (not too hot), wring it out and press to your face, steaming away the oil and impurities, whilst sealing in the essential oil goodness. Finish by dipping your cloth in cold water, and press the super-soft side to your face; to tone and close the pores.
MADE OF: *Cocos Nucifera (Coconut) Oil, *Glycine Soja (Soy Bean) Oil, *Prunus Amygdalus Dulcis (Sweet Almond) Oil, *Cera Alba (Beeswax), *Helianthus Annuus (Sunflower) Seed Oil, *Achillea Millefolium (Yarrow) Extract, *Melaleuca Alternifolia (Tea Tree) Oil, Chlorophyll, **Limonene.

*certified organic **occurs naturally in tea tree oil.
Made with certified organic ingredients
No petrochemicals, SLS or artificial preservatives
Vegetarian and cruelty free