French Girl Neroli Facial Polish / Fleur De Neroli
French Girl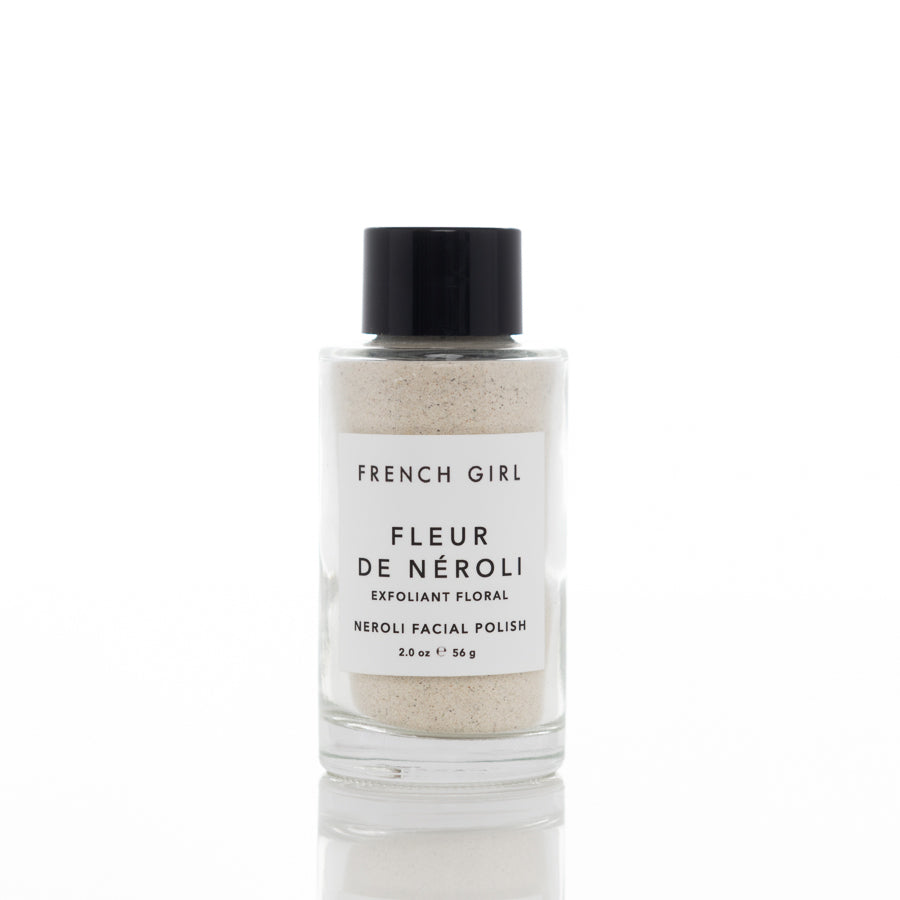 Fleur De Neroli Facial Polish by French Girl.  A finely-milled facial exfoliant rich in antioxidants formulated with Moroccan Rhassoul clay, flower petals, essential oils, and brown rice powder to gently polish and clarify the skin.
SIZE/DESCRIPTION: Suitable for all skin types
2 oz / 56 g
KEY INGREDIENTS: 
Moroccan Rhassoul clay draws out toxins and debris while reducing the appearance of pores.
Flower petals contain plant antioxidants that soothe and brighten the complexion.
Organic brown rice powder softens the skin.
Lavender and chamomile powders sooth and even skin tone.
DIRECTIONS: Pour a quarter sized amount into hand, add water or Floral Toner to reach desired paste consistency, apply in circular motions to dampened skin. Leave on for 5-10 minutes to achieve benefits of a mask, rinse with warm water.
INGREDIENTS: Oryza Sativa (Brown Rice) Powder* Rose Damascena (Rose)* Matricaria Chamomilla (Chamomile)* Kaolin (White Clay), Lavandula Officinalis (Lavender)* Calendula Officinalis (Calendula)* Achillea Millefolium (Yarrow)* Rosmarinus Offcinalis (Rosemary)* Cymbopogon Schoenanthus (Lemongrass)* Lippia Citriodora (Lemon Verbena)* Kaolin (Rhassoul Clay) Essential Oils of Pelargonium Graveolens (Rose Geranium)*, Boswellia Carteri (Frankincense), Cananga Odorata (Ylang Ylang)* Citrus Aurantium (Petitgrain)*, Cymbopogon Martini (Palmarosa)*, Lavendula Angustifolia (Lavender), Matricaria Reticula (German Chamomile)*, Achillea Millefolium (Yarrow)* * Certified Organic/Wildcrafted